Moskito Green is a series of natural mosquito repellents, developed by German technology.
Perfect European quality and active components of natural origin makes Moskito Green products an effective and safe way to protect from unpleasant, sometimes dangerous bloodsucking insects.
MoskitoGreen products are perfect:
For people prone to allergic reactions to chemicals, which are a part of the traditional products against mosquitoes.
- For those who care about their health and choose for themselves and their loved ones
natural products;
- For those who like active outdoor recreation and knows that mosquitoes could be a problem.
MoskitoGreen-Natural protection against mosquitoes.
Stickers against mosquitoes 6 pcs.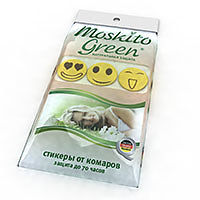 М106
Impregnated with essential oil of citronella. Stickers can be pasted on clothes, computers, furniture.
Active ingredient-citronella oil Quantity per pack-40 pcs Bar code-4607092073132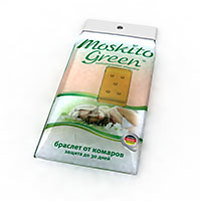 М105
It is made of "food" silicone, does not cause allergic reactions. Protection up to 30 days.
The quantity in the package is 30 pcs. The active substance is citronella oil. Bar code is 4607092073712